Casey Deary and Magnum Starlights capture their first Derby win.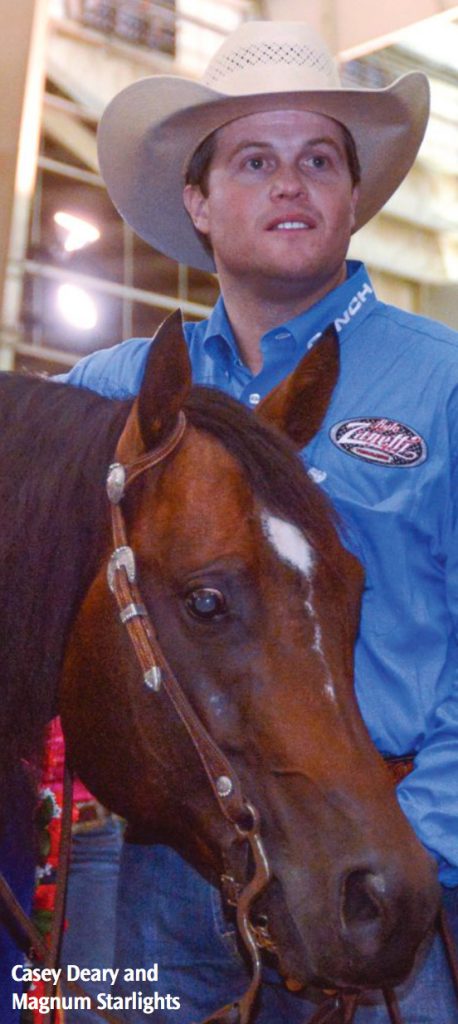 If there's one thing the 2016 NRHA Derby will be remembered for, it's the domination of Magnum Chic Dream offspring. The Derby's Open and Non Pro Level (L)4 divisions were won by Magnum offspings and three of the four Non Pro levels were won by the Hall of Fame Inductee's get. Talk about Magnum force.
Topping the $435,000-added Open Derby, which concluded on July 2 at State Fair Park in Oklahoma City, was NRHA Million Dollar Rider Casey Deary on Magnum Starlights (Magnum Chic Dream x Starlights Sugarwhiz) for owner Antler Ridge Ranch. The 2011 bay stallion was bred and nominated by George Lawrence. Deary, winner of the 2012 and 2015 NRHA Futurity, took the lead with a 223-point ride early in the Derby's Saturday evening performance, and then held onto it through the remaining 22 rides to claim his first-ever Derby win.
According to Deary, whose NRHA earnings now surpass $1.3 million, this win was an especially meaningful and sentimental one for his family. Back when he was still struggling to establish himself as a professional, he made the Derby finals for the first time on a stallion named Little Bay Starlight. The win paid $4,600 much needed dollars.
A few years later, Casey campaigned a Little Bay Starlight mare named Starlights Sugarwhiz, then owned by the parents of his wife, Nicole. The pair piled up more than $75,000 in earnings, a haul that helped put Deary Performance Horses on the map. She, too, was an NRHA Derby finalist. Before going to Antler Ridge Ranch, the mare gave birth to Magnum Starlights, or "Joey" as the Dearys call him, on the family farm in Weatherford, Texas.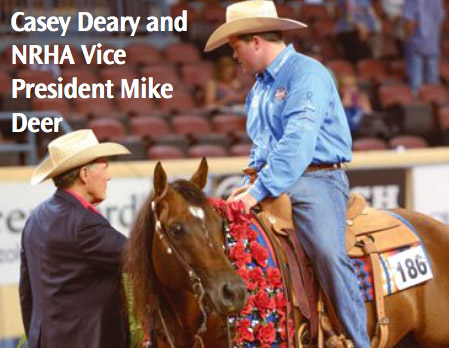 "This horse was born on my place, and I showed his mother and his grandsire. So, this has special meaning for me and Nicole," Deary said. "We won the Vegas [High Roller] Futurity and had huge runs at the NRBC, and we've always felt that he would achieve a major win sometime."
Casey Deary qualified three horses for the evening's finals, and the second best of the bunch proved to be In Like Flinn (Topsail Whiz x Nestle Quik Chic) owned by Todd Neiberger. Prior to the Derby, the horse gained acclaim by winning the 2015 AQHA Junior Reining World Championship with Deary in the saddle.
NRHA Reiner
by Gavin Engringer